You can make your order through the website or through WhatsApp too (+919933166900).
There is one more prime service also there, that is live chat or video call.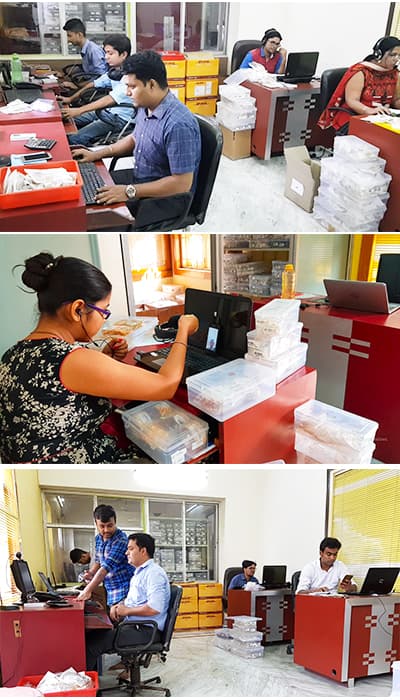 If anyone wants to choose their products via video call, yes, they are most welcome.
By the video call option our customer representative will provide you all necessary service from where you can make your selections.


By website you can make your order also very easily, you need add to cart the products you want to buy the check out by submit your details of shipment.

To know the shipping cost of your country kindly check the shipping page or you can contact your CRM.
You can pay directly us by using PayPal link. Given to the payment page.

The Most interesting part is with the video call you can see all our operation department. Like: -
Process of Packing
department.

After you complete your order, all the jewelleries you selected are packed very well. The back chains and pushes for the earrings are attached finely. Then the jewellery will put in plastic bags individually.
After this all the ordered jewellery is passed to the Quality checking section

Process of Quality Checking

Quality checking is really not done by 99% companies which is very important part which we experience. In Czmakers we have a quality checking section where jewellery is checked by professionals to find out if there is any damage or breakage. After the jewelleries passed from the Quality checking process they qualify for Dispatching.
If there is any product found defected then customers are informed by their dedicated CRM and the customer is requested to choose a replacement for that damage product.
With this process the chances of getting damage product become 0%.
Process of Dispatching


So, this is the process when the parcel is full sealed the packed for the delivery.
Mostly we are using DHL and FEDEX for the international shipments (Outside India) and BLUEDART and DTDC for the local shipments (Inside India)
Note: Your correct address must be required for the delivery. Available phone number, alternate phone number, your email id and off course your full name.


Our services are completely transparent to our customers. It's a pleasure to meet with our customers on video call.


FAQ for Orders

1. How many days will it take to deliver?

Delivery time different to each and every country.
Like USA, UK, IRELAND, CAMBDIA, NEPAL, BANGLADESH, DUBAI, ITALY, EGYPT, MALASIYA, THAILAND, PHILIPINES almost take 5-6 working days by DHL or FEDEX

AFRICA, NIGERIA, GHANA, TOGO, BENIN, AUSTRALIA, QUATAR, KENYA, almost take 7-9 working days by DHL or FEDEX
Note: You will get your deliveries to your doorsteps (provided delivery address by you)
2. Is there any minimum order?
Yes, our minimum order is $500. (This is like a sample order for your business)
There is extra discount available on minimum purchase of $750. Our discount % is depends on your order volume.
More you increase your order you can get more Discount.
To know your discount, you need to contact with your dedicated CRM.


3. What if, you get any of your items broken?
There are a very less chances to having this problem, because I mentioned that we have a department of quality checking where we take care for this kind of problem.
But after all, if you get any of the item is damage while you received the parcel you need to inform your dedicated CRM about that product within 48 hours with a very clear picture and video, so the company will take action for the replacement (terms and conditions apply). 4. What is the process to get Factory rates from CzMakers?
CzMakers is a manufacturing company of cubic zirconia jewellery. And prefer to deal in bulk only.
Factory rates are the best rates provided by the company. For getting the factory rates A customer needs to buy minimum $7500 of good in their first purchase.

4. How can I change my Shipping Address?
By default, the last used shipping address will be saved into your Sample Store account. When you are checking out your order, the default shipping address will be displayed and you have the option to amend it if you need to.

5.How Can I Track my orders & payments?
After logging into your account, the status of your checkout history can be found under Order History. For orders via registered postage, a tracking number (article tracking number) will be given to you after the receipt given from DHL or FedEx.

6. What are the payment methods available?
At the moment, we only accept Bankwire cards and Paypal payments.
7. Can I pay directly using my PayPal?
Yes! It is commonly misunderstood that a Paypal account is needed in order to make payments through Paypal. The truth is you DO NOT need one, although we strongly recommend you sign up to enjoy the added ease of use.
Without a Paypal account, all you need is any Debit/Credit card stated below that is supported by Paypal.
By using Paypal, we can process & deliver your orders to you in a shorter time. Paypal is the easiest & most secure way to make payment online. No account needed.
Message Meera - Sales Head any inquiry can contact here.